White Granite Countertops
Granite is a natural stone that has different colors and different properties. Each granite color has its exclusive properties and has its price. While the composition of the granite makes it impossible to achieve "pure white", the beauty of white granite lies in its  
striations 

flecks and 

Variations. 
 Because of these characteristics it also adds character and interest to the countertop surface. White granite countertops have a very complementary nature. 
Whether you mix granite with neutral colors or dark-colored interior, they are going to complement your kitchen most finely. White granite countertops have been the talk of the town ever since because of their shiny and calming properties. Homeowners who like the idea of white granite countertops understand that there is no such thing as pure and super white granite. However, there is a wide range of light-colored granite that looks like a white or a very light shade of gray or beige. 
Choosing white granite countertops is a luxurious as well as durable thought. It is because of the imperfections that the granite natural stone offers a clean look of white granite to a small kitchen making it look bigger and brighter. However white granite is a bit expensive. A piece of white granite ranges from $40 to $60 per square foot. White granite countertop from about $2250 to $4500. This amount does not include the cost of the labor that is required for the slab which is usually $35 to $85 per hour. You should understand the best cost and other factors while buying granite for your house.
White Granite Countertops vs Quartz:
Quartz is a natural stone that is much harder and more durable as compared to granite. There is always a debate among homeowners when it comes to choosing between white granite countertops vs quartz granite countertops. Quartz is almost nearly indestructible and because it is not as porous as granite, it is easy to keep your countertops relatively bacteria-free. 
When we talk about the difference between the appearance of both stones, granite comes in many different colors and patterns due to the way it is formed, that is by cooling and solidifying molten materials. It offers a complementary look and a standout slab with unique mineral inclusions having limitless selection options for the countertops. While the main reason for quartz's popularity is its appearance. It has the look of a stone and homeowners can customize their design as per their thoughts. While for granite, you have to search for the right piece that matches your thoughts. 
Depending upon the quality of the quartz and the style that is being used for the countertops, it usually costs between $3000 to $75,00. As engineered quartz is heavier than other natural stones, only professional installers need to make sure that the space is structurally sound. SF Marble and Granite are professionals that offer almost exclusive services at an affordable range. 
Quartz can be more environmentally friendly as compared to granite because of its regionally manufactured stones and local fabricators. Quartz is much more beautiful as it is harder than granite and does not have porous surfaces. Granite requires much more maintenance and continuous resealing almost after a year as compared to quartz countertops. You should know all the facts before installing any of the stones that have a countertop.
White Granite Countertops Cleaning:
Granite is a porous natural stone. Because of this nature, it requires proper sealing otherwise it will harbor a large number of bacteria that can be dangerous to your health. White granite countertops also require proper cleaning with the help of hot or warm water. However, soapy water is not advised because it can put a film on top of the sealant. It is better if you use specially developed granite cleaners like Stain Proof Daily Countertop Cleaner with a soft cloth to clean your white granite countertop. 
Some stains on your white granite countertops can be removed with the help of home remedies such as combining baking soda and hydrogen peroxide in a bowl to form a thick paste. This paste should be as thick as peanut butter. Spread the mixture over the stain and then cover it up with a plastic wrap. Let the mixture sink in for about 24 hours and remove it with the help of a light cloth. 
However, sometimes the staining on your white granite countertops is out of your hand and only requires the help of professionals to save you from any further damage. SF Marble and Granite is a company with a great portfolio and different cleaning packages for your convenience as per your timings and demands. We only hire expert professionals that use certified and authentic cleaners. White granite countertops cleaning is very easy and will not cost you a fortune. 
If you are using your techniques to clean your countertops, it is better to avoid any abrasives as the countertops are delicate and the acidic nature of abrasives will make the countertop's appearance dull. Using the wrong cleaning products will cost you a lot of trouble as well as money. Once your granite countertop appearance becomes dull, there is no return.
White Granite Countertops Colors:
White granite is a shade of granite natural stone. White granite stone has its shade of colors that are 
Moon white 

Thunder white 

Alaska white 

River white 
According to the study, it seems that moon white granite countertops are the fighter shade of granite with subtle yellow undertones. It is relatively uniform as compared to the other white granite and has been described as "mesmerizing" for its unique appearance. It is a highly versatile and exclusive appearance provider. Moonlight granite is among Level 3 stones. It is an intricately patterned natural stone and has speckles and swirls of bright ivory threaded with silvery Gray and jet black. 
thunder white granite features variations of 
veining with small deep burgundy flecks. thunder white granite countertops are a popular choice when looking for a marble-like appearance with granite durability. It appears nicely with a bold cabinet choice such as strong Navy or rich dark woods.  These thunder white granite countertops when paired with white cabinets give a  modern as well as stylish look. 
Alaska white granite is a frosty blend of pale silver and frosty whites, marketed with warm neutrals. It is usually imported from Brazil and is a durable natural stone offering a wide range of slab sizes. Alaska white granite countertops create a stunning look with accent walls and other architectural features, both indoors as well as outdoors. Just like others river white granite is also a shade of white granite.
River white granite countertops are very durable and mostly recommended for interior and exterior projects and are available in both tiles and slabs. You should know the exclusive properties of different white granite countertops colors for choosing.
White Granite Countertops Kitchen:
Your kitchen is the most important part of your house as it is a place where you make food for your family to feed them. Any impurity in the kitchen will transfer to the food that will eventually cause infectious diseases in the people consuming the food. The granite countertop in the kitchen is the talk of the town ever since. It not only offers an aesthetic nature to your house but also increases the value of your asset. Natural stone countertops used in the kitchen should be sealed properly so that they do not collect any bacteria and stop it from further spreading. 
In the kitchen, spilling water, oil, fruit juice acids, and pigmented liquids like tea, coffee, and wine are common occurrences. These will leave a permanent mark on your granite countertops if not clean on the spot. Soap with dyes and even household cleaners can leave stains on kitchen countertops as well as bathroom countertops. 
White Granite Countertops Kitchen is an efficient and thoughtful step to take. It comes with different styles and designs catalog and you can choose as per your expectations and requirements. You can use a design that can completely rely on making your kitchen look eccentric and unique. Octavio white granite countertop design is a pale brown abstract patch on your countertop that adds to its value and therefore will sum up to be a great match for your house. 
Similar to this Basilio granite countertop design Is one of the simple countertop designs that can completely compliment your hefty kitchen and take care of the beautifying décor and detailing. Contact SF Marble and Granite for further and better kitchen countertop design ideas at affordable prices and with appropriate and efficient labor. Your privacy is protected and your house safety is our responsibility.
Do granite countertops harbor bacteria and germs permanently?
Granite itself is resistant to bacteria but it does not mean that it is impervious to germs and bacteria. Regular usage of good-quality sealers will help the surface resist liquids that can harbor germs. Sealing granite countertops closes the tiny crevices and small pores that are not visible to human eyes but where bacteria can thrive. SF Marble and Granite is a reputable company that offers the best treatment for these granite countertops. However, it won't harbor bacteria permanently but will stop bacterial spread for good.
Is it expensive to repair granite countertops after damage?
Usually, the cracks on granite are not fixed however, they can be concealed with the help of epoxy or acrylic so they are not visible to the human eye. These will help to glue the granite together. It is not expensive if you take care of countertops and get proper services from professionals for the repair of damages. SF Marble and Granite offers the most affordable damage repair granite countertops services for long-lasting effects.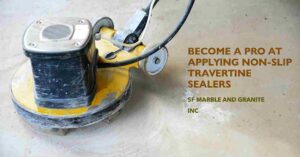 Mastering the Art of Applying Non Slip Travertine Sealers When it comes to safeguarding the...
Read More