Backsplashes Installation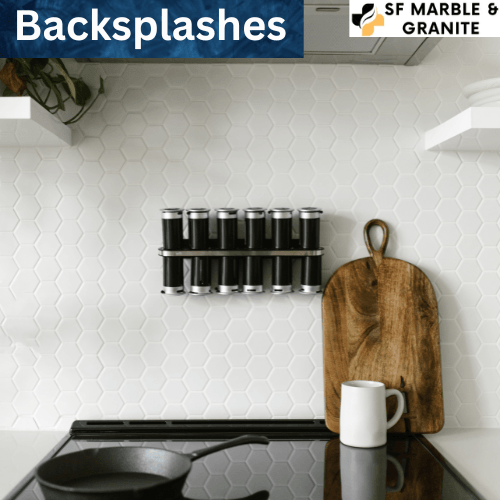 If you're a homeowner, then you know that there are endless possibilities when it comes to decorating your home. One important aspect of any room is the backsplash installation. A backsplash can really add character to your kitchen or bathroom, and there are many different materials and designs to choose from. In this blog post, we'll take a look at some of the best options for backsplashes, so you can decide which one is right for your home.
Kitchen backsplash tiles are just one of those things that really make a space feel homey and complete.
Backsplashes add a decorative look and help protect your home against water damage.
SF Marble Flooring  and Granite countertops available services of the backsplashes to decorate your home. 
There are so many options when it comes to selecting tile for your kitchen backsplash; pick a tile that matches your design style and color scheme or create a more contrasting design with a tile that contrasts your décor. 
If you're planning a kitchen remodel, adding a ceramic tile Backsplashes to your kitchen is a smart decision. It offers you a chance to make your kitchen look more modern and offer you an easy way to keep it clean.
Benefits of Installing a Kitchen Tile Backsplash

Makes Cleaning Easy

Protects from Moisture

Increases Home Value

Enhance Your Kitchen Décor

Ease of Installation

Easy to Replace

Environmental Friendly
In your kitchen, you're free to experiment and try out new recipes. Not only will you get amazing treats at the end, but you'll have a mess as well. You'd be even more panicked if you knew that your kitchen Backsplash actually is your only sink and you only have one faucet!
Fortunately, with a tile backsplash, there is no need to fret because it's stain resistant. All you need are some paper towels and warm water, and your backsplash will be good as new.
If you have a lot of plumbing inside your kitchen, you could be at risk of water damage.You need to be careful not to overdo it with the water or moisture. A small amount can lead to serious water damage.
A kitchen backsplash tile is a good barrier that keeps water from penetrating the wall. They prevent costly water damage. For further water damage you can contact us. 
Your backsplash tile is the glue that keeps the tile in place, that makes the floor strong and gives it a custom look.In your kitchen, your Backsplashe installation play an important role in creating a great looking, durable space that is also easily maintained. Your backsplash can help your kitchen stand out and enhance its overall look and value.
Whether it's kitchen cabinetry, appliances, a kitchen island or a kitchen table, there are many options available.
Enhance Your Kitchen Decor
With so many designs, styles, colors, and sizes available at your fingertips, you can enhance the look and feel of your kitchen. Create a sleek, contrasting backsplash by installing cabinets and counters with bright, vibrant white finish.Neutral is probably more your vibe, so choose a classic subway tile in a neutral gray. A simple style is always appropriate.
Tile Backsplashes are the ultimate in kitchen design. There are many different kinds to choose from, and they're sure to add a touch of luxury to your kitchen. For chosen of 
Good backsplashes the SF Marble and Granite have  excellent versions
Kitchen backsplashes don't need to be a big or costly project.

It's easier to install tile if you have a small room.

Kitchen appliances can cause your backsplash to get hot now and then.

It is surrounded by your stove, oven, toaster, coffee maker, and a lot of other kitchen gadgets.

The back splash on your kitchen should be durable and heat resistant.

Back splash tile is a good investment because it won't fade or crack when exposed to heat and isn't as expensive as granite.
Although your kitchen tile Backsplashes are incredibly long lasting, there's a chance a tile will crack down the line.If you want to change your kitchen without changing the entire backsplash, replace your damaged tiles without affecting your other tile pieces.
You can just remove the crack tile and then replace it, and then regrout it in place.
If you are looking for a material that is good for the environment then the tile is the ideal material for your kitchen backsplash.Tile is made of easily mined and manufactured materials.Fuel consumption will be minimal because of how easy it is to source tile.
Tile can be a low-cost material, and that makes it an attractive option for environmental friendly conscious home projects.
FAQs Related Backsplashes
Why Do I Need A Backsplash?
Backsplashes serve both functional and aesthetic purposes. Functionally, they protect the wall behind a sink or stove from damage due to water, oil, or food splatters. Aesthetically, backsplashes can add a decorative touch to your kitchen or bathroom and enhance the overall look of the space.
What Materials Are Commonly Used For Backsplashes?
Some popular materials for backsplashes include ceramic or porcelain tiles, natural stone (such as granite or marble), glass, stainless steel, and even wood. The choice of material will depend on your personal style and the overall design of your space.
How High Should A Backsplash Be Installed?
The height of the backsplash will depend on the height of your countertops and your personal preference. However, a standard height for a backsplash is between 15 and 18 inches above the countertop.
Can I Install A Backsplash Myself?
If you have experience with DIY projects and feel confident in your abilities, installing a backsplash can be a DIY project. However, if you are not comfortable with cutting and installing tiles, it may be best to hire a professional to ensure a proper installation.
How Do I Clean And Maintain My Backsplash?
The cleaning and maintenance of your backsplash will depend on the material. For example, a tiled backsplash can be cleaned with a mild detergent and warm water, while a stainless steel backsplash can be cleaned with a non-abrasive cleaner. It's important to regularly clean your backsplash to prevent buildup of dirt and grime.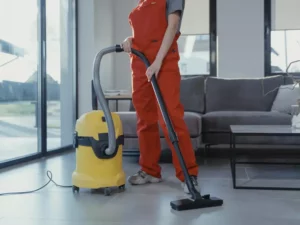 The Ultimate Guide on How to Polish Marble Floors and Tiles How to polish marble...
Read More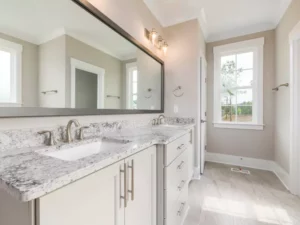 How to Clean Marble Countertops How to clean marble countertops? Marble countertops are a popular...
Read More