White Cabinets Dark Countertops
Natural stones like marble, granite, and limestone are used as a material in countertops whether you're choosing for your kitchen countertops or bathroom countertops. These natural stones come in different sizes and colors, giving you a wide range of choices to choose from according to your taste. If you are using countertops in your kitchen, you should also be concerned about the cabinets in your kitchen.  
People have different tastes across the globe. Some of them like light countertops with white cabinets however others like dark countertops with white cabinets. Some people pick opposite choices for the cabinets and countertops. As the technology has updated, you can find any color countertop for your kitchen with the help of professionals. Impurities in natural stones provide a wide range of colors.  
Different properties are attached to different colors of the countertops. Dark surfaces absorb light while white kitchen countertops reflect the light. Dark countertops help to complement the painted cabinets that are mostly of blue and green tones as per the trend escalating in the market. However light countertops are also liked by many of the customers with white cabinets to give a classic and subtle look.  
There is no doubt that dark always compliments white. Dark countertops are perfect to complement white cabinets to achieve a perfect and classic look for your kitchen. This confusion of whether to choose light or dark countertops with white cabinets will be easily resolved if you take SF Marble & Granite company services. A modern white kitchen with black countertops is easy to install with the help of our experts.
What Color Cabinets with Black Granite Countertops?
Granite is one of the natural stones that have exclusive properties to increase the aesthetics of your house as well as to increase the value of your asset if being installed. There are about 200 granite colors with different varieties from each other, in terms of surface design patterns as well as colors. Granite countertops are mostly a choice by homeowners. Granite stone comes in different colors like  
Pink  

White  

Black  

Variations of Gray  
However, before choosing the color of granite for your countertops, you should acknowledge the properties of all the different colors attached to granite countertops. It is an essential point to note that some stones marketed as black granite contain at least 20% quarts within a rock to make it granite.  
When you install granite countertops in your kitchen, you not only prefer the color that you are using as a countertop but also give a detailed examination of the color of the cabinets that are going to outshine the granite countertops. The cabinet colors that usually go with black granite countertops are  
Black  

Cream  

Gray  

White  

Dark brown  
Several other different colors include mint green, a specific teal, dark blue, and the natural wood finish of the cabinets that are mostly used for customers who are much more inclined towards subtle home designing ideas. These colors of cabinet offer a distinctive combination with granite countertops and one can't go wrong with these colors.  
Black granite countertops are the best match with the cabinet colors that radiates its exclusive energies like  
white cabinets  

Birchwood  

dark brown cabinets  

royal blue  

sour apple  

Bright green  
SF Marble and Granite offers different varieties from simple gray bottom cabinets to mount your black countertops and also offers an option to pair them with white glass front uppers to keep the room light and airy. You can get the best classic look, yet modern and suitable for a variety of home decorating styles without any inconvenience. 
White Cabinets Black Countertops Gray Walls
Your house depicts what your mindset is. The kitchen is the most important part of your house as it is the place where the food is cooked that is eventually used as fuel for your body as well as for your mind. Your kitchen environment should be healthy and exquisite enough to offer you relief regarding your long-term investments.  
Cabinets, countertops, and walls all complement each other and if any of them is not properly colored then it may affect the other as well. White cabinets always look classic. Gray is arguably the most versatile of all the neutrals and it can be used as a primary color in your kitchen as a balancing figure to elegantly nourish the other hues.  
There are different shades of gray from lighter tones to darker tones. Darker shades of gray like charcoal bring the magic of black to the kitchen along with a neutral option. Black countertops are the most vibrant ones as they absorb all the smudges and hide all the stains. White cabinets are a timeless and functional choice for any kitchen design style without any second thoughts.  
Whether you want to adopt a traditional look or a modern rustic look black and white finishes can have a stunning effect on the overall look. Black kitchen countertops are currently enjoying the limelight along with the white cabinets. This monochrome look gives us the elegant vibe of the 1980s era. These black kitchen countertops are an extremely practical choice as they hide the dirt, conceal cracks, and are not easily stained.  
Black countertops not only vibrant the white cabinets but if you adopt gray walls to complete the whole look, you may get the most elegant advantage over other ordinary kitchen basic style ideas. 
White Cabinets Black Countertops What Color Walls
After choosing the color of your cabinets and countertops, colored walls are also an issue that is usually faced by homeowners that do not have proper knowledge regarding modern fashion air floating around the globe. Black countertops along with white cabinets always offer a chic look as they are also very beautiful. Black countertops use a black quartz worktop that gives you a long-lasting, hardwearing workspace that is attention-grabbing.
Striking black kitchen countertops make a dramatic impact and bring elegance and style to your kitchen when paired with white cabinets and right-colored walls. Light tones of neutral palettes have their elegance but the black countertops create a sharp contrasting feature, also working well with bright colors and metallic color schemes.
You can use a black countertop with white cabinets for a new twist on a minimalist urban kitchen, using them as a dramatic contrast. Glossy white cabinets with black countertops, finishing with sleek shiny Chrome appliances is a classic timeless. SF Marble and Granite professionals understand the color of paint that will complement black granite tiles similarly.
Along with the black countertops, neutral walls like
Gives an easy and modified accent. Due to the dark colors such as gray, forest green, or dark blue color, an empty room will be filled with light and vibrant. Eventually, the professionals will help you understand that comfort is more important than following the trend. Hence using a subtle color wall with black countertops and a white cabinet will create a huge impact. Modern white kitchen cabinets with black countertops are in demand.
Best Color Countertops for White Cabinets
Different houses have different faces toward the sun. Some homeowners are much inclined towards window adoption in their kitchen through which sunlight enters the entire day. However, some kitchens are not inclined towards the light in the morning as well as the evening. For those kitchens that enjoy a lot of warm light in the morning as well as evening, warm white tones are the best option to lean into coziness and comfort.  
White or black countertops with white cabinets are solely your choice. We help you understand your choice more wisely and efficiently to protect your long-term investment without any damage. The best color countertops for white cabinets are  
Warm shades of Reds  

Orange  

Yellow  

Green  
These shades best complement your white cabinets offering a modern and exclusive look stop getting light-colored countertops or dark-colored countertops that are solely your choice. Our experts will help you with different examples to make your version much wiser. White cabinets are the most common choice for kitchen cabinetry. Whether you are looking for a completely white kitchen or white cabinets when contrasting countertops there are many ideal combinations for your home.  
The right material will heavily depend upon the type of look you are wanting for your kitchen. Experts will help you get traditional as well as modern at the same time. White cabinets tend to be a style statement that when paired with the right color of a countertop is the cherry on the top.  
The installation job of your countertop for your white cabinet should only be done with the help of professionals. We are the ones in the market with a great portfolio having decades of experience providing the services at affordable rates. Choose us to get a better finishing for your home.  
What Cabinets Should Be Used With Countertops?
There are plenty of cabinet colors that will help you complete the look with countertops. The black countertops with white cabinets are very popular nowadays. Contact us to get a better understanding of the look you deserve 
Is It Necessary To Follow Modern Kitchen Color Combinations With Cabinets?
The best for your house is what makes you comfortable. Go for the color combinations between your walls and countertops to make your house look exquisite and comfortable for you. Choose the best for you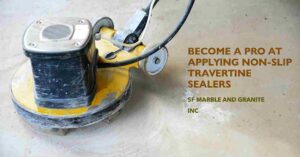 Mastering the Art of Applying Non Slip Travertine Sealers When it comes to safeguarding the...
Read More