Marble vs Granite vs Quartz Overview
Marble is a metamorphic rock which means it takes millions of years to form as compared to other rocks. The original rock was limestone. The colors of marble can range from pure white to black. The specialty of the marble is that it is often named after the place where it is found, such as the famous white type of marble that comes from Carrara, Italy. It is cool to touch and softer as compared to other natural stones however it can be stained very easily unless it is sealed properly.  
Granite is a rock that is made up of several minerals including quartz and feldspar. It is an igneous rock that is formed of magma deep within the earth. It is hard and durable and may come in many colors. It can even resemble marble and clouds.  
Quartz on the other hand is a mineral while marble and granite are the rocks. This is a form of a crystalline object that has the same chemical makeup in all of its parts. It is made up of silicon dioxide and is the most abundant mineral in the earth's crust. The pure form of quartz is clear but impurity is lending this mineral a long-range of variety of colors.  
Marble vs Granite vs Quartz Cost
All of these three stores have their properties. Quartz, granite, and marble are three of the best in the most popular countertops and flooring options on the market. Everything here differs. From their weight, to their cost these three are different in every form. Granite countertops have risen in top popularity over the past few decades while marble countertops have been a focal point of homes for many years now. Quartz countertops have risen in popularity in recent years as a viable alternative to both granite and marble options.  
In a comparison of marble vs granite or marble vs quartz, the lower-end marble costs more per square foot than high-end granite or quartz. According to the study, the average cost of granite per square foot is $75.  
Quartz is less expensive than marble and has a price range from $40 to $100 per square foot. While the marble can range from a price of dollar 50 to $150 per square foot. The installation cost will add up to their prices as well. Many companies offer different price ranges for marble, granite, and quartz installation.  
SF Marble & Granite is a company with a great portfolio that offers affordable prices for marble vs granite vs quartz flooring. Contact us to avail yourself of the pocket-friendly services along with the installation of these natural stones. Granite is comparatively harder and stronger than the marvel and is the most durable natural stone as compared to both others. Their costs vary with their abilities.  
Granite vs Quartz vs Marble Countertops Pros and Cons
If you are looking for natural stones for your countertops, you're probably debating quartz versus granite versus marble. You might not be sure how you will ever decide what natural stone will be best for you or not. Knowledge is the key here. SF Marble & Granite experts provide specific knowledge as per your house after complete examination. Before going for any of the natural stones, learn about all the characteristics of quartz vs granite vs marble weight.  
These three natural stones have their respective pros and cons. Quartz countertops will compliment your home decorating style they're available in a different range of colors such as  
Basic white  

The Gray  

Lively cherry  

Lime  
These quartz countertops are generally low maintenance and they never need sealing. Quartz is quite stain resistant, if you encounter a persistent mark, use a glass cleaner on it.   
A major drawback of a quartz countertop is that it is low resistance to thermal shock due to its resin content. You will not be able to place a hot pan directly on your quartz countertop otherwise it will leave an ugly scorch mark ruining your long-term investment.  
  Each slab of granite is unique with lovely color variations and different patterns. It comes with a choice of finishes that is either polished or honed. Granite countertops usually last for more than 50 years. Use gentle non acidic and non-scratching cleansers on the granite countertops. However, it comes with two the negative qualities  
it must be sealed annually to protect its appearance  

It can be damaged easily by any contact with acids such as lemon juices or vinegar.  
Marble countertops require the same maintenance as that of the granite. Marble is known for its exquisite appearance and it develops a subtle patina over some time. Marble is 100% natural stone and every slab is different from others making your bathroom or kitchen luxurious. However, it has a negative impact like  
high maintenance and vulnerable to acid and abrasive substances.   

It is much softer and porous than granite   

requires sealing several times a year
Granite vs Marble vs Quartz vs Soapstone
Soapstones also known as soap rock, is a type of metamorphic rock that is composed largely of the magnesium-rich mineral talc. It occurs in the zones where tectonic plates are subducted, changing rocks by heat and pressure, but without melting. It has been a medium for carving for thousands of years.  
 Soapstone is a gorgeous natural stone composed of chloride and dolomite. Due to the soapstone composition, no two slabs are the same. Soap stones are much more porous than the other stones. You do not need to worry about liquids seeping into the stone because of its non-porous quality. Soapstones are better heat resistant and these are the ideal countertops that can be used in the kitchens.  
However, like every natural stone countertop, soapstone countertop has its drawbacks despite its hard surface, it can be susceptible to damage from heavy items being dropped on it a lot of care is required while cooking or cutting on the soapstone countertops soapstone can be capable to scratching from knives, so it is always recommended to use a cutting board.  
 Quartz is very trendy these days. The engineered stone countertops are 90% of ground natural, quartz by weight which is colored with added pigments and with Poly resins. Quartz, granite, and marble have their facilities. Between marble vs granite vs quartz bathroom countertops, choose the best according to your taste. Remember, each of these countertops requires maintenance as per their expectations.  
How to Choose the Right Countertop?
Natural stone countertops have become a trademark nowadays. Every other second person wants to have kitchen countertops or bathroom countertops to have a luxurious experience. But many homeowners are out there that have no idea of what to choose. During this thought, taking the help of professionals is the best option. SF Marble & Granite offers you the best grounds that will help you choose the right countertop for your home.  
Installing a natural stone countertop is a large investment. It comes with all of its pros and cons, so you need to choose wisely before investing your money in something. If you are choosing a countertop for your kitchen or bathrooms, select the type of countertop that meets your needs and style. Do not go with the trend if you are not comfortable. If you know you and your family are prone to spills, consider a strong material to protect your investment that best matches your personality.  
SF Marble & Granite offers you a range of different soapstone countertops, marble countertops, quartz countertops, and granite countertops. We help you choose the best counter that matches your personality as well as your home décor. You should be much more vigilant while using the right countertop, which has a luxurious look and offers a strong surface. Since the countertop is a man-made thing, it can be customized in any shape, size, and color.  
Only choose the companies that offer you the best natural stone services and prevent you from any damage to your pocket as well as to your home. Contact us to get the most reliable natural stone countertop or flooring services for your home and protect your investment.
How Much Care Is Needed For Countertops?
Whether you are going for marble countertops or granite countertops, always choose the professionals to tell you the better difference if you do not know about them. Proper care and maintenance are needed regularly to avoid any bacterial growth or discoloration of your countertops.  
Are Granite Countertops Hard To Maintain As Compared To Marble Countertops?
Granite is very durable and stain-resistant. Because of these properties, granite countertops are lower maintenance as compared to marble countertops. You can clean them with your expertise as well.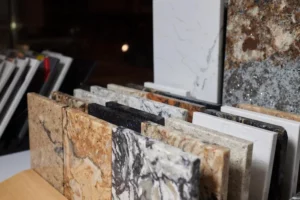 Ignite Style: Painting Granite Countertops for a Bold Makeover Granite countertops are revered for their...
Read More