Non-Slip Outdoor Tiles for Sale
Non slip outdoor tiles flooring is a flooring with a texture to provide a level of slip resistance. The smoother the floor, the more slippery it will be. These non-slippery outdoors tiles are made with a better grip. This efficient grip will reduce the chances of slipping where they are installed. Non-slip outdoor tiles can be made out of more rough material. These materials will naturally reduce the risk of accidents in the same way.  
Most of the tiles that are used outside are naturally slippery. But if you add anti conditions, it can considerably reduce the level of traction and slipperiness. Rain, melting ice, and snow are all conditions that can make the tiles more slippery if left untreated. It can lead to dangerous slips and falls that will cause a lot of health damage.  
Many companies in the market sell non-slippery outdoor tiles for your garage and patio. But not every company understands the risk attached to the sale of fake non-slippery tiles. SF Marble and Granite is a company with a great portfolio and authentic customer service. We offer non-slip outdoor tiles for sale at affordable prices. We guarantee the best quality of non-slippery outdoor tiles that not only will reduce the risk of slippery but also increase the beauty of your houses.  
Using the Non-slippery tiles with a better guarantee adds an inexpensive and easy to install option as they alter the look of your floor as well. The best way to make your outdoor stone tile floors less slippery is to apply an anti-slip formula. Our experts will help you install the most genuine anti-slippery surface flooring for your tiles.
Non Slip Tiles for Outdoor Stairs:
It is always a good decision to use non-slip tiles for outdoor stairs which usually is a high traffic area. We use staircases very often and sometimes when we descend them in hurry, there are chances of slipping and falling. Also, if you have kids or senior citizens at your home, slip-resistant floor tiles are a must-have to avoid any potential injury. Even for commercial property, anti-slip tiles will protect your employees from unnecessary damages and dangers.  
Using vinyl non-slip tiles for stairs is an affordable choice as well as an appealing option for residential as well as commercial spaces. As these tiles are available in different colors and designs, you can install them to suit the interior of your property as per the paint of your interior. Rubber tiles are also an option to be used as non-slip outdoor tiles for steps. These tiles are used with functionality as the main priority. Rubber provides excellent slip resistance and minimizes the impact of injuries.  
Non-slip tiles can provide the required protection and convenience. If your staircase is made from hardwood and you want to increase its friction, the carpet will be a better option for that. Many luxurious, modern, and traditional houses that are entirely furnished with wood go for exquisite-looking carpets and rugs to enhance their attractiveness.  
Ceramic and porcelain tiles are a good option if you use them as a staircase. Stainable for both indoors and outdoors steps and anti-slip tiles offer maximum friction. SF Marble and Granite offers the most complete installation of non-slip staircases at affordable prices.
Non-Slip Tiles for Outdoor Use:
When you are selecting the floor tiles either for your home or your office, it is essential to pay attention to factors like  
Wear and tear  

Water-resistant  

Maintenance  

Slip resistance  
Considering the nature of the outdoor area, its exposure to water and dust, and the normal weather conditions of the region also need to be considered while installing non-slip tiles for outdoor use. This is because every type will be suitable for every different condition of the outdoor area. It is better to take the assistance of the experts who make sure what weather conditions will require what kind of tile.  
The best choice for the outdoors is porcelain. It is preferred over ceramic and is more durable and does not crack in extreme weather conditions. Moreover, has a lower absorption rate and hence can be used in any outdoor space that is exposed to  
Rubber tiles are also another worth considering option. They are highly useful in outdoor areas of commercial properties that experience high traffic and in residential areas where children play often. Outdoor tiles are often exposed to harsh weather conditions that will cause permanent effects on the coloring of the tile. Black non-slip outdoor tiles and gray non-slip outdoor tiles are considered to be the most adopting tiles because of their dark-coloured nature.  
You can also use bamboo tile flooring or cork tile flooring outdoors for a non-slip property as they are extremely durable and will be able to withstand regular use. A variety of patterns are provided on the surface to provide added grip. Different patterns are used to make your residential homes look luxurious.
What is the best Non-Slip Tile?
If you want to see unexpected injuries to a minimum level, go for the best non-slippery tiles for showers as well as for the outdoor patio. Ceramic or porcelain is the best as they are excellent water resistant as well as water absorbent. The best type of tiles that offers non-slippery flooring surfaces are  
Slate tiles  

Try honed granite  

Terra cotta tiles  

Budget-friendly vinyl  

Some natural stones  
The best way to use natural stone flooring is to seal them properly. It is highly recommended to use non-slippery tiles in the bathroom as your showers can be a very risky area. It is not just because of exposure to water continuously but also because of the lotion and soap solution even the condensation on tiles from steam showers.  
Vinyl is a great choice for modern homeowners and requires less care. While it may not brag about elegance like ceramic or porcelain, the wide range of colors and the styles available can help you increase your aesthetic as well. It offers an excellent non-slip surface and is quite easy to install and maintain. Stain-resistant tiles should be installed for better benefits.  
There are many sustainable and eco-friendly options. Bamboo and cork are the ideal choices as it is easy on the environment and has an impressive range of properties and seeks non slip flooring materials. These are highly renewable and biodegradable options find non-slip tiles. There are plenty of options to choose from that are available in natural and stain colors. The best part is that they're easy to clean and have low maintenance.
How to Clean Non-Slip Outdoor Tiles?
Every inch of the tile you install in your house whether it is a slippery floor or a non-slip outdoor tile requires proper cleaning. Tiles are an expensive investment. That is why they require proper maintenance and cleanliness. You can either help yourself by throwing a small amount of washing powder over the flooring or dipping a hard bristle brush into the warm water to scrub the surface until the majority of the dirtiness has gone. Or you can take a sponge and repeat the process again and again until no spots are left.  
Cleaning your tile on a daily basis will save a lot of your problems. Taking care of a few simple steps will help you to clean your non slip outdoor tiles with a minimum effort  
wash the tiles with clean water once per week  

deep cleaning of the tiles every month  

Rinse and dry the deep cleaned tiles  

remove the stains as soon as you notice them  

avoid cleaning with abrasive materials  
Also, you can take the assistance of SF Marble and Granite experts as we use the best cleaners for outdoor tiles and make sure that only those cleaners are used that will not react with your tiles. Our updated techniques and upgraded equipment will make your non-slippery tiles look new again. Be aware of cheap non-slip outdoor tiles.
What is the difference between non-slip outdoor and indoor tiles?
Stronger tiles should be used outside to withstand changing weather conditions as compared to tiles used inside the property. Most of the outdoor tiles are not glossy. Glossy tiles prove to be slippery when wet, that is why glossy tiles should be avoided to be used outside as they will make anybody fall easily. SF Marble and Granite experts make you understand the major difference between outdoor tiles and indoor tiles.
What tiles can we use outside?
Any very durable tile can be used outdoors. While looking at outdoor tiles, check their hardness and porosity carefully as you should go for tiles with a high rating and low absorbency rate. Tiles are your long-term investment that will increase the value of your asset as well the aesthetic of your patio. Only choose the best company to install tiles whether indoors or outdoors. SF Marble and Granite offers the proper guidance in this regard.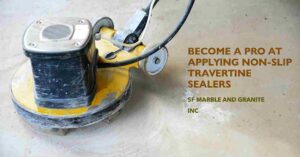 Mastering the Art of Applying Non Slip Travertine Sealers When it comes to safeguarding the...
Read More