San Francisco Marble Services
San Francisco, a city known for its vibrant culture, iconic landmarks, and picturesque scenery, is also home to a magnificent treasure beneath its surface SF Marble and Granite. This exquisite natural stone has captivated architects, designers, and homeowners alike with its timeless beauty and versatile applications. In this overview, we will delve into the intriguing world of San Francisco Marble and examine its history, distinctive qualities, and contribution to the city's architectural scene.
San Francisco Marble, also known as San Francisco White Marble or Calacatta San Francisco, is a high-quality marble sourced from quarries in the region. It is renowned for its pure white background, interlaced with delicate veins that range in color from soft grey to warm gold. It is a widely sought-after material in the field of interior design and architecture because of the alluring color combination's sense of sophistication and elegance.
One of the distinct features of San Francisco Marble is its durability and longevity.The transformation of limestone over millions of years produced this natural stone, which is a solid and durable material that can survive the test of time. It is the perfect material for a variety of uses, including countertops, flooring, wall cladding, and even sculptural components, thanks to its inherent strength and breathtaking aesthetics.
Beyond its physical attributes, San Francisco Marble holds a significant historical and cultural value. Numerous famous structures in the city, including as the opulence of the Palace of Fine Arts, the elegance of San Francisco City Hall, and the ever-classic Ferry Building, were built using it. Its presence in these architectural marvels adds a touch of sophistication and grandeur, while also honoring the city's rich heritage.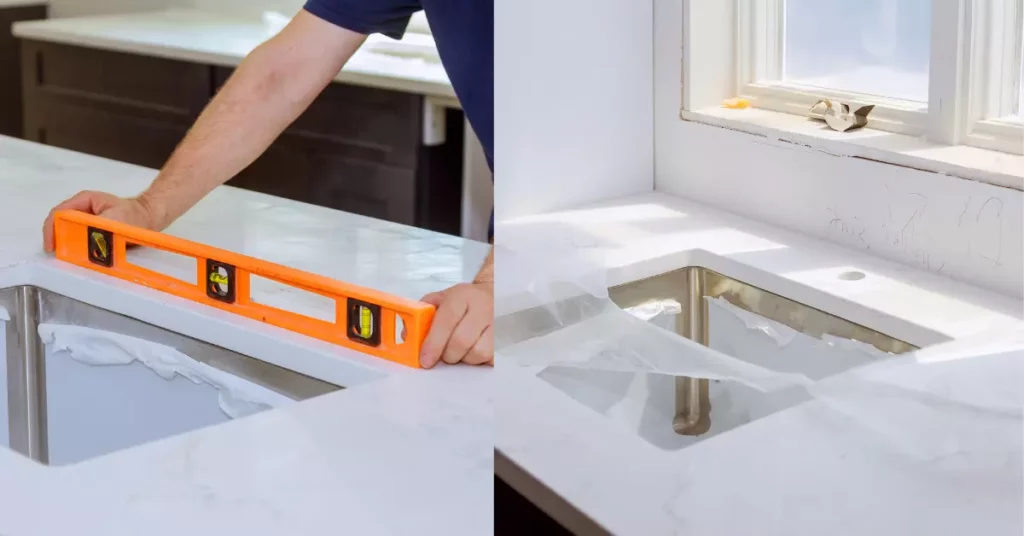 Why Choose SF Marble and Granite?
SF Marble and Granite has established itself as a trusted brand for several reasons. Here are a few compelling factors that make them stand out:
Quality and Reliability: SF Marble and Granite is known for its commitment to delivering high-quality granite products and services. They source their marble from reputable suppliers, ensuring durability and beauty.
Extensive Industry Experience: With years of experience, SF Marble and Granite has honed their expertise in granite installation and customization. Their skilled team is equipped to handle projects of all sizes.
Unparalleled Craftsmanship: SF Marble and Granite takes pride in their attention to detail and precision. Their expert craftsmen strive for perfection, ensuring impeccable finishes and seamless installations.
Customer-Centric Approach: SF Marble and Granite places great emphasis on customer satisfaction. They work closely with clients, understanding their unique requirements, and providing personalized solutions.
The Beauty of San Francisco Marble
San Francisco Marble is renowned for its exquisite beauty and natural elegance. Each slab of San Francisco Marble boasts unique patterns and colors, making it a stunning addition to any space. The distinct veining and intricate designs found in San Francisco Marble create a sense of luxury and sophistication.
An Array of Granite Options
SF Marble and Granite offer a wide range of granite options, ensuring there's something to suit every style and preference. From classic and timeless designs to modern and contemporary choices, their extensive collection caters to diverse aesthetic sensibilities. Whether you're looking for light or dark shades, bold patterns, or subtle textures, SF Marble and Granite has the perfect granite to enhance your space.
Exceptional Craftsmanship
SF Marble and Granite's craftsmanship sets them apart from their competitors. They employ highly skilled artisans who meticulously transform raw slabs of granite into exquisite masterpieces. Their attention to detail and commitment to perfection ensure that every installation is flawless, leaving customers in awe of the finished product.
Superior Customer Service
SF Marble and Granite understands the importance of exceptional customer service. They prioritize open communication and transparency throughout the entire process, from the initial consultation to the final installation. Their knowledgeable team is readily available to address any concerns or queries, ensuring a seamless and hassle-free experience for their customers.
The San Francisco Marble Difference
When you choose SF Marble and Granite for your granite needs, you benefit from:
Unmatched Quality: SF Marble and Granite's commitment to excellence ensures top-notch quality in every aspect of their products and services.
Customization: They offer tailored solutions to bring your unique vision to life, providing custom designs and finishes.
Timely Delivery: SF Marble and Granite understands the value of time. They strive to meet deadlines without compromising on quality.
Competitive Pricing: Despite offering premium products and services, SF Marble and Granite remains competitive with their pricing.
Long-lasting Beauty: San Francisco Marble's durability ensures that your investment will stand the test of time, maintaining its beauty for years to come.
Can SF Marble and Granite assist with both residential and commercial projects?
Absolutely! SF Marble and Granite cater to both residential and commercial clients, providing tailored solutions for their granite needs.
Is it possible to view samples of San Francisco Marble before making a decision?
Yes, SF Marble and Granite offer samples of their granite options, allowing you to see and feel the beauty of San Francisco Marble before committing to a purchase.
How long does a typical granite installation take?
The duration of the installation depends on various factors such as the size of the project and the complexity of the design. SF Marble and Granite provides a timeline estimate after assessing your specific requirements.
SF Marble and Granite, known for their exceptional craftsmanship and commitment to customer satisfaction, is the ideal choice for all your granite needs. Their extensive range of San Francisco Marble and granite options, paired with their superior expertise, ensure that you receive top-quality products and services. Experience the timeless beauty and elegance of San Francisco Marble by choosing SF Marble and Granite for your next project Contact us.